One can see a distinct trend of phone screens getting larger. For example:
On the left is an HTC EVO 4G (circa 2009), a Galaxy Nexus (2011), and a Nexus 4 (2012). Based on these observations, I've extrapolated what the next-generation wristwatch will look like:
The one on the left is a Timex (circa 2008). The one on the right is a prototype.
Today wasn't my greatest run. I got lapped 4 or 5 times (depending who you ask) by a friend. Last week, I was able to do roughly 25 minutes for 37 laps (3.166 miles). Today it was 27:30.
What bugs me is that I'm not as fast as I was 6-9 months ago. And I'm not able to get back there, it seems, without a great deal of effort.
My friend and I reflected on our runs. For me, I notice that when I want to go fast, I take longer strides. This is counter to the advice I've read (Born to Run) that shorter strides are more efficient.
During my run today (and other runs), I periodically dabble in the shorter strides. But, eventually, I lose patience since I'm just slower with the shorter stride. I then go back to my long stride.
When I trained last year, I focused on just running as fast as I can for as long as I can. I started out fast, since I observed that I tend to save too much for the end, and I need to start spending stamina earlier. I'd then just try to maintain that clip as long as I could (or as close an approximation as possible).
It occurs to me that I learned to get faster the wrong way–by getting myself conditioned to a long stride and being able to sustain it for 3.1 miles, rather than shortening my stride and becoming more efficient.
My friend commented that I look very well-aligned when I run. I have a straight form. This alignment is something I do mentally. I focus on a point on the wall (we were indoors) and pretend that I'm going to run right through that wall. However, at some point during my run, I dabbled (once again) in trying to lean forward. I've heard that's a good thing to do, too. Or is that only when you're going downhill?
I'm thoroughly confused. So, I decided that I need to visit the running form itself and figure out what my goal should be. I was aware of two schools on running form: POSE and Chi. They are summarized pretty well here: HowStuffWorks "How is ChiRunning different from Pose Running?".
But which one? And do either of these have any scientific backing? (Double-blind experiments with a control group, for example.)
Because they won't answer an easy question on what power adapter to use with the product that I bought (albeit a long time ago):
Your request (#31984) has been updated. Reply to this email or follow the link below:
http://support.channelmaster.com/tickets/31984

Jeff Brown (Answer Center) Jan 09 09:47 am (MST)

Thanks for your inquiry.

Unfortunately the product you are requesting information on has been discontinued and we no do not provide complementary support on discontinued products.

Best Regards,

Regards,
Jeff Brown
Tech Support Lead
Channel Master
www.channelmasterstore.com
www.channelmastertv.com
Here's my original request:
Jan 08 06:33 pm (MST)

Hi. I have an older CM-3043, but I can't find the power supply. I have a bunch of universal dc supplies laying around, but I need to know the voltage that this thing wants.

I've looked around for data sheets etc but I can't find any.

Can you tell me what voltage the CM-3043 needs, and if it is center-positive or center-negative? Thanks.
Unlike just about every electronic item that I've come across, they don't have the supply requirements printed on the box, and they don't have any data sheet or user manual available online.
This basically means that if I fry the product in the process of trying to get it to work, it'll end up in a land-fill. Contrast that with this: HBR on Patagonia.
This post was originally titled "We are never ever ever getting back together".
Found this sitting in my drafts folder from 2010. In response to: Seth's Blog: #YearInReview What did you ship in 2010?:
MDFH (work project)
ASR (work project)
Built a Windows Home Server
Set up a media center PC + TV
Put ducting in attic for AC
(It's obviously a partial list–and a year old at that.)
I noticed a WalMart receipt in our car that shows a tax rate of 9% plus 1.25%. That seemed kind of high.
Apparently, Elgin has a "special business district" tax rate that is 9%, and then there's a 1.25% on top of that (presumably County Home Rule), which totals to 10.25%.
It looks like the tax rate in Algonquin would be between 1.25% to 2.5% lower than that in Elgin (Kane County). The Illinois tax rate finder web site predicts 7.75% for Algonquin. It predicts 9% for Elgin (Kane County special business district).
The Illinois web site (below) doesn't show the 1.25% adder for Elgin's "special business district". So, I don't know if that 1.25% gets added to the Algonquin's 7.75% as well (in which case the difference would only end up being 1.25%).
True contentment is a thing as active as agriculture. It is the power of getting out of any situation all that there is in it. It is arduous and it is rare.
— G.K. Chesterton (via Moment of Happiness Daily Quotation)
Work is busy. There are many things, each of them detailed investigations, that need to get done in a short amount of time. Customers expect that from us–and our competitors.
Normally, at lunch time, I'll stay in and eat at my desk, usually surfing the web while doing this. Today, I decided to take a walk outside.
Outside was warmer than I expected, but still crisp. Yet, the pond was frozen. An usual but serendipitous combination. I took a nice, refreshing walk. I stretched on the grass.
I immediately forgot what was going on in my office. My mind cleared.
Today, getting all there is out of a frenzied situation means creating a calm moment.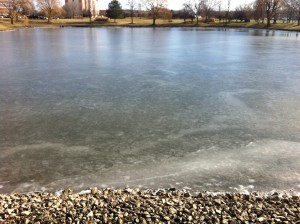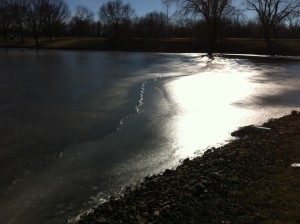 Nice little calculator to tell you if it's worth it to refinance or not:
Refinance Calculator.
The same website has a lot of references (and survey of media and books) covering other calculators and advice.
Thinking about this. For once, I've actually done my weekly routine of running twice a week and weight training twice a week. I heard about this crossfit excercise–both from a guy at work and a random vendor I've been talking to on a weekly basis.
This article seems to have a pretty fair treatment: T NATION | Crossed Up by CrossFit. Summary: good for the average Joe, but not for serious body-builders.
A great song to work (and I suppose work out) to. Energizing: (Note: I haven't watched the video before; just like the song.)